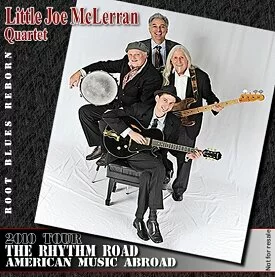 Riyadh usually suffers from the summer blues, in mid July the weather gets so bad that you feel like you're melting when you step out for lunch. The temperature is above 50C (122 F) in the direct sunlight and all outside work is halted by government order. Construction takes place at night and schools don't let students go out during lunch.
Yesterday I was at the King Fahad Cultural center in Riyadh for a quite different kind of blues experience. The Little Joe band from Tulsa, Oklahoma was in the city for a concert. Now I know what you are thinking, what is a blues band from Tulsa doing in Riyadh and how did they get there? Well the American Embassy in Riyadh arranged the event in hopes of sharing a bit of the U.S.A with a little bit of Saudi Arabia. I say a little bit of Saudi Arabia because very few people where actually invited to the event, I'm guessing around 100-200 people showed up and I would venture that very few of them were actually people who were unfamiliar with the western music.
The issue is that sharing your culture in the middle is quite a sensitive operation. The local population is generally xenophobic and they have to eased into change. It is one of the reasons why the, relatively, new King is being slow and deliberate in the changes he makes. The problem is how do you introduce your culture to people who need to experience it when they are the ones who are the most averse to experiencing it are so averse to anything new? I'm sure this isn't a problem that is unique to the Middle East. A similar problem exists in economies all over the world. People whose jobs are being threatened by cheaper alternatives are the ones that need to be trained in new, more productive industries. They are also, usually, the people who refuse to do so and fight to keep things the way they are.
research paper writing service
I have attended a couple of classical concerts during my undergrad days in Chicago and went to quite a few musicals on Broadway but I never thought my first actual concert experience would be in Saudi Arabia. The concert itself was quite good and I had a great time. The crowd was quite lively hooting, shouting and clapping along with many songs. The band played a song called "The Monkey Speaks his Mind" which was pretty funny, they also played some really laid back music as well as some up tempo stuff. All in all the event was amazing and I hope they certainly have more like it.
zp8497586rq